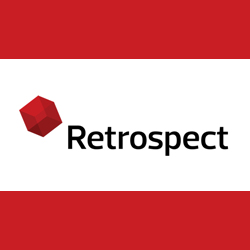 Retrospect Backup and Recovery software. We provide complete hybrid data protection for small and medium businesses. Retrospect provides medical offices, law firms, banks, auto repair shops, restaurants, departments in large corporations, universities, government offices and so many others with the peace of mind knowing that their digital assets are safe.
Retrospect's enterprise level features provide local and offsite backups, archiving, and duplication with precise point-in-time restores, file-level deduplication, physical and virtual support, iOS remote management of multiple backup servers, end-user-initiated restores, and industry-leading customer support and built-in cross-platform support – all with no dedicated IT staff required to manage it.
Our philosophy
Retrospect, Inc. is dedicated to providing secure, reliable backup and recovery tools for professionals and small-to-midsize businesses. It is our strong belief that data protection software should be "backed" up with the best customer support available, which we strive to provide.
Our top 3 products and/or services

Retrospect Backup and Recovery software for Windows

Retrospect Backup and Recovery software for Mac

Retrospect Virtual "New…coming March 2017" for VMWare and Hyper-V Environments.